Kansas Dove Hunting
Directory of 13 Kansas Dove hunting lodges, guides and outfitters in Kansas.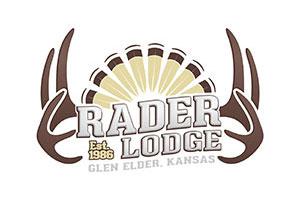 1299 Lori Lane, Beloit, Kansas 67420
Phone: (785) 545-8852
It's pheasant hunting at first light for a quick limit, then off to the Dove field, followed by lunch at the lodge, a nap, then off for an evening of exciting White Bass fishing or a limit finishing Dove hunt (while the Doves are still around).

Learn more about Rader Lodge
269 Pawnee Rd., Windom, Kansas 67491
Phone: (620) 489-9411
We can accommodate up to 12 hunters on site comfortably at the cabins with additional housing available locally for large groups. Six pheasant / day /hunter bag limits or a combination of pheasant / chukar are complemented with guides and dogs, three delicious home cooked meals, field transportation, birds cleaned and packaged. We are a family owned and operated business committed to ensure that the hunting party has an enjoyable outdoor experience. Guests need only bring gun, ammo, hunting clothes, cooler (for processed birds), and a fun group. Hunters are welcome to bring their own dogs if desired.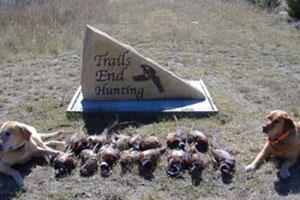 1010 E. Beeson, Dodge City, Kansas 67801
Phone : (620) 430-0663, Phone 2: (620) 430-4118
Cecil's Trails End Hunting Lodge strives to create a bird-hunting package just for you. We not only have plenty of birds, but we have plenty of options for the hunter. Whether you prefer the challenge of a wild bird hunt or a guided preserve hunt, Trails End Hunting Lodge can accommodate you.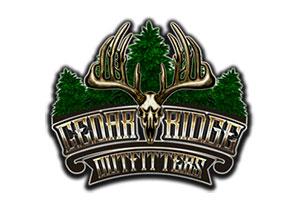 123 East 1st, Washington, Kansas 66968
Phone: (785) 541-0706
Who is ready for some of the finest wing shooting Kansas has to offer? Dove hunting at Cedar Ridge Outfitters is some of the finest in the Midwest. We will hunt at sunrise for a couple of hours and again in the evening until dark. We find our best success is around chopped silage or wheat fields, and we surround the nearest ponds with decoys. Kansas allows 15 dove per day per hunter. This is a two-day one-night for parties of 4-6 hunters. Remember, a federal migratory HIP stamp is required for this hunt!!!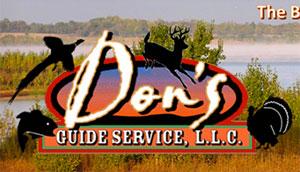 308 N. Hobart St., Glen Elder, Kansas 67446
Phone: (785) 545-3551
Those visiting Don to hunt will be amazed at the variety of wide open spaces that they will experience. Don has access to literally hundreds of acres of prime, leased hunting ground which consists of crop-harvested farm ground, grassland, creeks, and rivers. And, that is not counting the many thousands of acres making up the Glen Elder State Park hunting area surrounding Waconda Lake.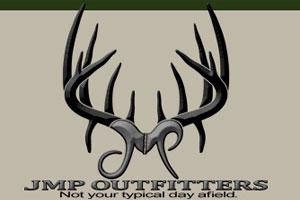 1237 11th RD , Marysville, Kansas 66508
Phone: (785) 562-5563
Kansas dove hunting at its best, we hunt doves morning and evening. Most of our hunts are on ponds and feed fields. We incorporate Mojo decoys with our static decoys for maximum results. There is nothing better than hot dove action and a pile of spent shells to get you primed for the start of a long hunting season. Let the fun begin!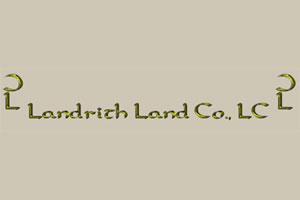 5053 Rooks RD, Bartlett, Kansas 67332
Phone: (620) 226-3381
We also conduct Dove hunting trips and Kansas Quail hunting trips on our property during the appropriate Kansas Hunting seasons.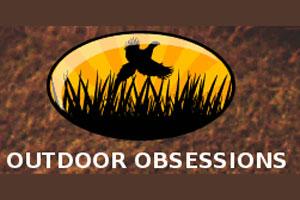 820 Kansas ST , Downs, Kansas 67437
Phone: (785) 565-2584
September in Kansas can offer some of America's hottest dove hunting action. The hunts take place in sunflower fields and 15 bird limits are the rule on these grey buzz bombs. This can be combined with our preserve pheasant hunts for a great way to kick off your fall upland bird hunting season. Book early to guarantee your experience!

HC61 Box 7, Tipton, Kansas 67485
Phone: (785) 373-4835
The first 2-3 hours of daylight and the last 2 hours before sundown generally provide a high activity level in the most comfortable conditions. Don't plan to be on the dove stand through midday as activity is limited and it's often a little warm through early September.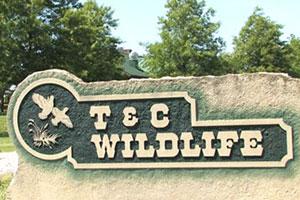 2461 Arrowhead Rd., Arcadia, Kansas 66711
Phone: (620) 638-4300
Our mission statement is: to provide the ultimate hunting experience in a natural native environment that promotes sportsmanship, camaraderie and a true appreciation of man's best friend and the great S.E. Kansas outdoors.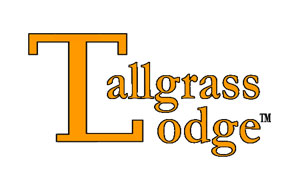 3299 West Lyons Creek Road, Junction City, Kansas 66441
Phone 1: (785) 537-7171, Phone 2: (800) 241-9122
At Tallgrass Lodge our services include Kansas Trophy Whitetail Hunting, Kansas Pheasant and Quail Hunting, Kansas Turkey Hunting, Kansas Predator Hunting, Kansas Waterfowl Hunting, and Kansas Dove Hunting. We hunt on and manage thousands of acres of habitat specially managed specifically to give you the best hunting experience possible. Our five bedroom two story lodge sits in the middle of the core acreage, and can sleep up to ten hunters comfortably.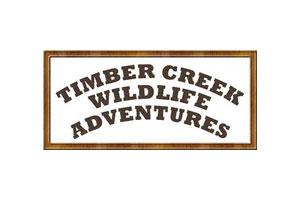 4858 231st Rd., Atlanta, Kansas 67008
Phone: (620) 394-2393
Timber Creek Wildlife Adventures is located in the southern part of the beautiful and historic Flint Hills.1800 acres of privately-owned family land near Atlanta, Kansas. Our family has occupied this property for nearly 100 years. Timber Creek Wildlife Adventures has just about everything the outdoor enthusiast can hope for.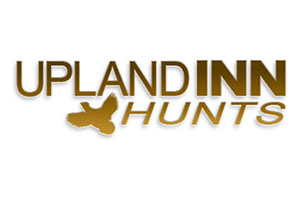 407 S Walnut St, Greensburg, Kansas 67054
Phone: (316) 250-3038
Imagine experiencing thousands of doves coming into a watering hole. Your hunting dreams can become a reality at Upland Inn Hunts. Combining our restoration technologies with native grass CRP, pivot irrigated corn and beans, hedge rows, sand hill plum pastures, food plots, and habitat management (controlled burns, legume inter-seeding, strip disking, plum thickets, etc.) provides the needed resources to make wildlife flourish. Your friends, family, or customers will have memories that will last a lifetime. We strive to exceed your expectations and provide great Kansas hospitality